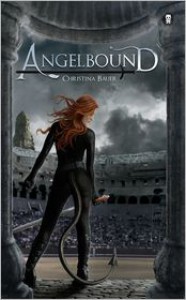 Angelbound begins with Myla being a quasi-demon, half-demon half-human, who goes to Purgatory High. Purgatory is run by the King of Hell, and Myla fights in the arena whenever needed to keep the bad spirits from going to Hell. The problem is Myla knows things are being kept from her and she's dying to find out what! But when the Angels start acting strange, and new people start showing up around Purgatory like Prince Lincoln from Earth, things start to get a little crazy! Especially when Lincoln and Myla seem to have a weird chemistry neither one can deny!
This book was good! I really enjoyed the plot line, and the characters were unique and interesting. I loved Myla! She wasn't a normal teenage girl.
And it could be because she's not completely human, but she was also different from her other half-demon friends as well. She was very strong, and had a tough attitude that I adored! Also, I loved the relationship between herself and Lincoln! They were awesome!
The only thing that didn't make much sense to me was the way her mother treated her. I mean I understood some of it to a certain extent, but then I felt her mother went way over bored on things. And that was slightly frustrating. Other than that though I really enjoyed the book, and I look forward to reading more in this series!