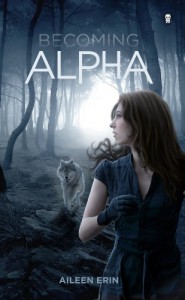 Becoming Alpha begins when Tessa and her family move to Texas after her dad accepts a new job there. They actually have a few secrets they have been keeping from Tessa, but she soon starts to learn things she never knew when a kiss from a boy who she can't get out of her head changes her life for ever. Now she's forced to go to a "werewolf" school and figure out what the heck happened to her, and is to continue to happen.
But there are a whole lot of problems she never thought she would encounter a long the way.

This book wasn't all that great, but not bad either. I liked the plot line of the story. And I loved the interaction between the heroine and hero, but other than that I just felt bored at times with it. And frustrated. There were several things that frustrated me about the book, and I felt like it didn't really end on a good conclusion. So I'm not sure I will be reading the next one, but I still enjoyed this one for the most part because it had a unique story.